Exploring the mine as a group
Our group offers are great for catching up with friends, family outings, club activities and so much more. We will gladly help you select the activities that best suit your group.
Book a tour of the mine, take part in a treasure hunt or try your hand at gold panning. Compete against each other in our obstacle course or climbing area and take a walk through the forest and visit our viewing platform.
We will guide and assist you throughout the day and help you get a fire going at one of our barbecue areas. You can tell each other old tales and legends of trolls and other mythical creatures as you site around the campfire. Then if you're too tired to drive home, you can stay overnight beneath the stars in a bivouac or one of our A-frame cabins.
Your safety is important to us! The safety of the mine is verified by mining experts before the start of each season.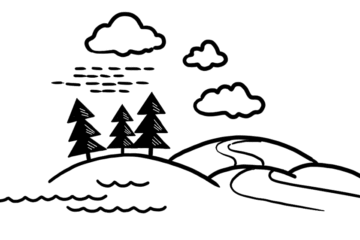 Prices for private groups
Prices in SEK per person for groups of at least 15 people. The minimum price for a group booking is 2700 SEK.
Entry to the mine
Adults  ……………………………………………….  180
Children (3-12 years)  …………………………..   100
Pensioners, students, school children …….  140
Guided tour  …………….  30
Treasure hunt  ……….   40
Gold panning
max. 3 hours
combined with a visit to the mine ………. 110
without a visit to the mine ………………..  200
Group activities
Adventure challenges ………………….  180
Night walk through the mine ……….  200
Accommodation
Bed in an A-frame cabin …………………………………….  150
in a bivouac (only in combination with an activity) … 50
Food
Breakfast  ……………………………………………….  80
Bratwurst sausages with potato salad ……….  150
Barbecued meat with salad / potato salad …. 250
Coffee / Tea / Cake   …………………………………  80
Butter and bread is included with all meals. You are welcome to bring your own food.
We offer the following group activities:

Adventure challenges

Compete with and against each other to complete a series of challenges that require not only physical strength and speed, but also creative thinking and teamwork. The selection of challenges can be tailored to suit your group.
Night walk through the mine

The night walk starts at dusk (or at an agreed upon time). Each group receives helmets, torches and a special task that they have to complete in the darkness of the mine.
Overnight stay in a bivouac

Staying the night in a bivouac is always an exciting experience. You and your friends will spend an unforgettable evening telling stories around a campfire before retiring to your bivouacs, where you'll sleep in sleeping bags, side by side, in the middle of the forest.
A-frame cabins

More comfortable accommodation is provided by our A-frame cabins. These tent-shaped wooden structures have a solid floor, four single beds and a wonderful woody fragrance. You can either bring your own linen or hire some from us.