From 9.8.21 on you buy a ticket on site.
=> Our rental service for cloth is restricted at the moment, we offer helmets, torches and rubber boots, but no jackets!! Please bring warm clothing, waterproof shoes, and if you have a (bike) helmet. Be aware that the temperature inside the mine is between 1°C and 3°C.
=> On our area the current Covid rules apply, keep distance and only come if you are healthy! We recommend wearing a mask while you are inside the mine (we offer masks for free).
22 May–20 June
26 June – 08 Aug
09 Aug – 05 Sept
11 Sept – 03 Oct
06 Oct – 21 Oct
Sa+Sun 11 am–4 pm
daily 11 am–5 pm
daily 11 am–4 pm
Sa+Sun 11 am–4 pm
We+Th 11 am–2 pm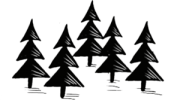 It's easy to explore the mine on your own – you don't need to book a tour. We recommend warm clothing and waterproof shoes, as the temperature inside the mine is between 1°C and 3°C. You can pick up a guide booklet from the visitors' centre. It features a simple map and detailed information about all the different parts of the mine. You can also read about the history of Kleva Gruva.
Please note: It is not always possible to pay by card, because our internet connection is not very reliable. Please remember to bring cash, thank you!
Entry to the mine
Adults  …………………………………………….. 160
Children (3-12 years)*  ……………………….. 100
Pensioners, students, school children …..  120
Guide booklet  ……..  40
Treasure hunt  ……   40
Gold panning
max. 3 hours
combined with a visit to the mine  ………. 110
without a visit to the mine …………………  200
* Children under 3 years of age have free admission and are not counted in the person contingent
Equipment, food and drinks
• Torches and helmets are provided free of charge
• Children can wear their own bike helmets
• Rubber boots can be hired free of charge
• Drinks, ice cream, sausages etc., bread rolls and potato salad can be purchased from the visitors' centre
• You are welcome to use our barbecue areas and firewood free of charge
Groups
Groups can book in advance to visit Kleva Gruva from April to October. Check out Groups for pricing information and please get in touch with us if you would like to make a booking or require any further assistance:
Email info(at)klevagruva.se oder
Telephone + 46 (0) 760 198867